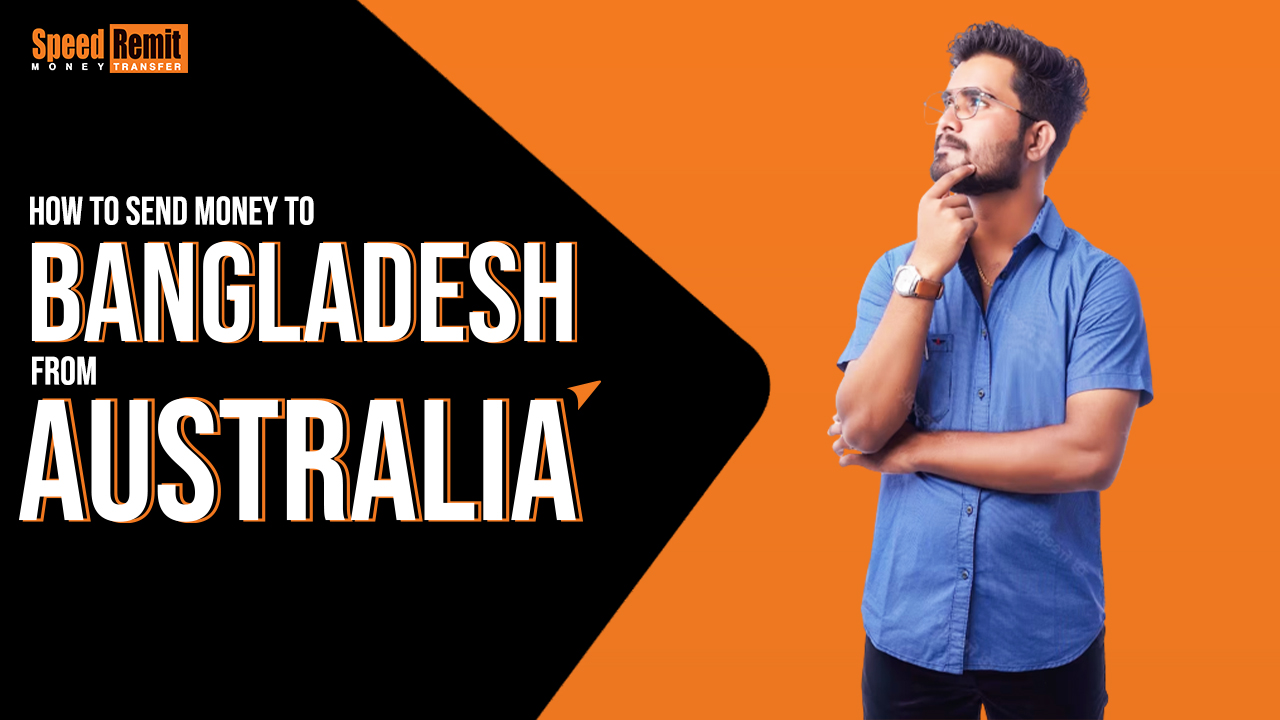 How to Send Money to Bangladesh from Australia
In today's connected world, it's common to need to send money across borders. Know how to send money quickly and safely if you want to support your family, invest in a business, or take care of other financial matters. If you live in Australia and need to send money to Bangladesh, you're in the right place. In this guide, we'll explain the steps, options, and best practices for sending money from Australia to Bangladesh.
It might seem hard to send money from Australia to Bangladesh, but if you know what to do and have the right tools, it can be simple. The first step is to understand how transfers work and what choices you have.
Understanding the Transfer Process
When you send money to someone in another country, it goes through a number of steps to get there. Initiating the transfer, choosing a transfer method, giving the necessary information, funding the transfer, and confirming the transaction are some of these steps.
Comparing Different Transfer Options
Bank Transfers
Bank transfers are a common way to send money around the world. However, they usually have higher fees and take longer to process. Changes in exchange rates can also affect how much the recipient gets in the end.
Online Money Transfer Services
Online money transfer services are becoming more popular because they are easy to use and have good exchange rates. Companies like SpeedRemit have platforms that are easy to use and let you start transfers from the comfort of your own home.
Cash Pickup Services
Cash pickup services are a good choice when the person receiving the money needs it right away. But this method might come with higher fees and more security steps.
Factors to Consider When Choosing a Transfer Method
Exchange Rates and Fees
To get the best value for your money, you need to compare exchange rates and fees. Even a small difference in exchange rates can change how much the other person gets.
Transfer Speed
Depending on how quickly you need the money, you might choose a faster transfer method over a cheaper one that takes longer to process.
Convenience and Accessibility
Choose a way to send money that works best for you. You can send money at any time through online platforms, but some physical locations may only be open during certain hours.
Step-by-Step Guide to Sending Money
Visit the Provider's Website
Go to the online money transfer provider's website, such as SpeedRemit, and begin the transfer process.
Create an Account
If you're a first-time user, you'll need to create an account. Provide accurate information to ensure a smooth transaction.
Enter the Transfer Amount
Specify the amount you want to send, and the system will provide an estimate of the amount that will be received in Bangladesh Taka (BDT).
Fund Your Transfer
Select your preferred payment method – bank transfer, credit card, or other options – to fund your international transfer.
Confirmation and Tracking
After confirming the transfer, you will receive a tracking number. Both you and the recipient will be notified once the transaction is complete.
Tips for a Smooth Transaction
Check all the information about the recipient again before you confirm the transfer.
Keep an eye on the exchange rates so you can pick the best time to make a transaction.
Keep transaction receipts and reference numbers in case you need them in the future.
Safety and Security Measures
When you use an online money transfer service, your information and money are kept safe as a top priority. To stop fraud and unauthorized access, they use encryption and verification.
Common Challenges and How to Overcome Them
Exchange Rate Fluctuations: Consider using services that offer rate locking for a certain period.
Network Issues: Ensure a stable internet connection to prevent disruptions during the transfer process.
Benefits of Using Online Money Transfer Services
Competitive exchange rates and lower fees.
Convenience of initiating transfers from anywhere.
Faster processing times compared to traditional methods.
Conclusion
Now, it's easier than ever for people in Australia to send money to Bangladesh. With online money transfer services like SpeedRemit, you can send money to family or business partners quickly and easily. It's easy. Just follow the steps above and you'll have a smooth time sending money internationally.
FAQs (Frequently Asked Questions)
What is the best time to send money considering exchange rates?
Exchange rates can fluctuate daily. It's advisable to monitor rates and choose a favorable time.
How long does an online money transfer usually take?
The transfer duration varies depending on the provider and the transfer method. Some transfers can be completed within minutes, while others might take a couple of business days.
Are online money transfer services safe to use?
Yes, reputable online money transfer services use advanced security measures to protect your data and ensure secure transactions.
Can I cancel a money transfer after it's initiated?
In most cases, once a transfer is initiated, it cannot be canceled. It's crucial to double-check all details before confirming the transaction.
What do I do if the recipient doesn't receive the funds?
Contact the provider's customer support immediately. They will assist you in resolving any issues and ensuring the funds reach the intended recipient.