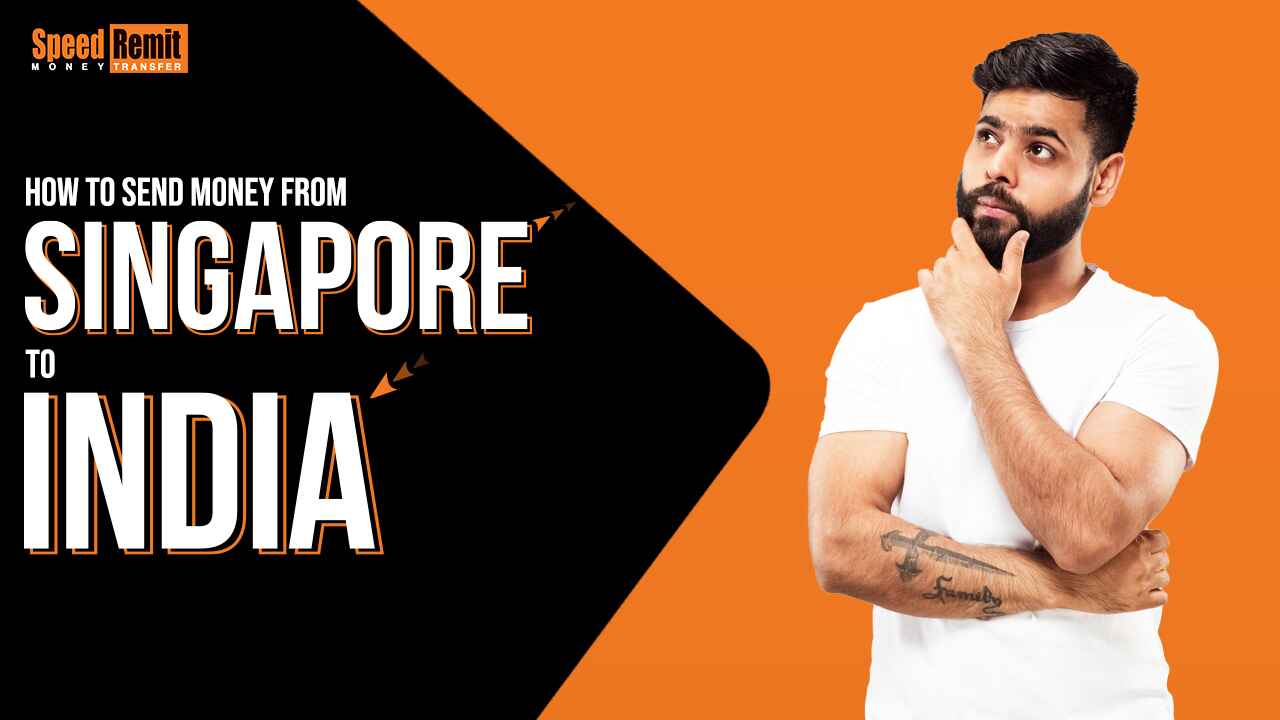 How to Send Money to India From Singapore?
Welcome to Singapore! As an Indian expatriate, facilitating home remittance to India is a significant aspect of your overseas journey. Among the various choices available, consider the seamless route Speed Remit provides for sending money to India from Singapore. With unparalleled reliability, a user-friendly interface, and cost-effectiveness, Speed Remit stands out as the optimal choice for ensuring a swift and secure transfer of funds to your loved ones in India.
Navigating the Concerns: Send Money to India from Singapore
Being an Indian expat in Singapore comes with specific challenges when sending money back home. Deceptive money transfer providers can trap you with enticing deals. It is crucial to choose a trustworthy service like Speed Remit, a leader in the industry that not only facilitates fast money transfers to India from Singapore but also ensures encryption for the safest transactions.
Mistakes to Evade While Transferring Money to India from Singapore:
Going for Unverified Money Transfer Providers: Stick to reputable, registered services like Speed Remit to avoid scams when sending money to India from Singapore. Thoroughly evaluate services and read reviews before making a decision.
Passing over Hidden Fees and Unrealistic Exchange Rates: Beware of seemingly low fees coupled with unfavourable exchange rates; these hidden costs can significantly reduce the amount your recipient receives.
Using Insecure or Public Wi-Fi: Protect your financial information by avoiding unsecured networks when initiating money transfers from Singapore to India. Go for secure and private internet connectivity.
Sharing Sensitive Details: Never share sensitive financial details through insecure channels. Use secure methods when sending money to India from Singapore.
Hurrying a Transaction: You must take your time to double-check every transaction detail. Rushing may lead to massive errors that are challenging to rectify while sending money to India from Singapore.
Important Details to Send Money to India from Singapore:
Sender's Details: Your complete name and contact details (phone number and email address).
Recipient's Details: Complete name, contact information, cell number, and precise address in India contribute massively to making "sending money to India from Singapore" much easier.
Receiver's Bank Details: Name of the recipient's bank, account number, specific branch details, and the branch address.
Recipient's Identification: National Identity Card number, government-issued identification, and contact details.
Reason for Transfer: Clearly state the reason for the money transfer's reasons, such as family support, education, investment, or personal savings, when sending money to India from Singapore.
Documentation: Additional documents like employment verification may be required depending on the amount and purpose.
Receiver's Bank SWIFT/BIC Code: It is essential for direct transfers to ensure a smooth transaction.
Elements to Value Before Choosing a Money Transfer Provider:
Conversion Tariffs: Compare exchange rates to maximise the amount reaching your recipient while transferring money from Singapore.
Fees and Costs: Ensure transparent pricing with clear information on prices and any hidden costs.
Transfer Speed: Choose a timeframe that aligns with your needs, whether same-day, next-day, or within a few business days.
Transfer Limits: Check for transaction limits and ensure they meet your planned transfer amount.
Customer Reviews and Reputation: Research customer reviews to gauge the company's reputation and identify potential issues. It also contributes to making the right decision to opt for the company to send money to India from Singapore.
Regulatory Compliance: Confirm that the money transfer service is licensed and measured by relevant authorities.
Security and Encryption: Confirm the use of strong encryption and security measures to protect your information.
Benefits of Choosing an Online Remittance Transfer Service over a Banking Channel:
Rapid Transactions: Sending money to India from Singapore becomes faster with instant transfers, ensuring prompt receipt by recipients.
Convenient Online Transactions: With instant money transfers, sending money to India from Singapore can be conveniently initiated and completed online, offering flexibility and ease.
Global Accessibility: Instant transfer services have a broad network, facilitating seamless transfers to India from Singapore and ensuring a global reach.
24/7 Availability: Sending money to India from Singapore is more convenient with instant transfers as these services operate 24/7, accommodating different time zones and urgent needs.
Cost-Effectiveness: With transparent fees and competitive exchange rates, instant money transfers can be more cost-effective for sending money to India from Singapore.
Flexible Funding Options: For sending money to India from Singapore, instant transfer services often provide multiple funding options, including credit/debit cards and bank accounts.
Real-Time Tracking: Instant transfers offer real-time tracking, allowing users to monitor the status of sending money to India from Singapore at every stage.
Emergency Support: In emergencies, instant transfers are ideal for promptly sending money to India from Singapore, providing immediate financial assistance.
Enhanced Security Measures: Instant transfer services prioritise security, using advanced measures to protect user data and financial information when sending money to India from Singapore.
Digital Adaptation: Instant transfers align with the digital age, catering to users in Singapore who prefer quick and seamless online transactions when sending money to India.
Some Unrealistic Fears Linked with Using Online Money Transfer for Sending Money to India from Singapore:
Security Concerns:
Fear: "I'm afraid about the security of my financial details."
Reassurance: Established online money transfer services use advanced encryption technologies to secure personal and financial data. They adhere to strict security protocols, making your transactions as secure as possible.
Fraud and Scams:
Fear: "I can be a victim of scams or deceitful activities."
Reassurance: Reputable services have robust fraud prevention measures. Stick to well-known platforms, avoid sharing sensitive information with strangers, and use two-factor authentication when available to enhance security.
Transaction Delays:
Fear: "What if my money doesn't reach the recipient on time?"
Reassurance: Most online money transfer services provide real-time or near-instant transfers. However, factors like bank processing times or holidays may cause minor delays. Always check the estimated delivery time and plan accordingly.
Exchange Rate Fluctuations:
Fear: "I'm worried about losing money because of non-practical conversion rates."
Reassurance: Exchange rates can fluctuate, but reputable services offer competitive rates. Keep an eye on the rates, and consider using services that allow you to lock in a rate for a specified period if you're concerned about volatility.
Hidden Fees:
Fear: "I'm worried about hidden fees that might increase the overall cost."
Reassurance: Transparent services disclose their fees upfront. Before initiating a transfer, review the fee structure and ensure you understand all costs. Reputable platforms are clear about their charges.
Technical Issues:
Fear: "What if there are procedural glitches amid a transfer?"
Reassurance: While technical issues can happen, reliable services invest in robust infrastructure to minimise disruptions. They often have customer support teams available to assist in case of any problems.
Regulatory Compliance:
Fear: "I'm worried about the legality & regulatory compliance of the money transfer service."
Reassurance: Established money transfer services comply with financial regulations in the countries where they operate. Ensure the service is licensed and regulated by relevant authorities to guarantee legality.
Why Speed Remit Stands Out:
Speed Remit stands out for its professionalism and commitment to security in money transfer services. From the moment you log in to initiate the transfer until the funds reach your family, you can trust Speed Remit to provide a secure and efficient service. Sending money to India from Singapore is more straightforward and reassuring with Speed Remit, ensuring your loved ones receive the support they need. Additionally, its conversion rates are very practical, letting your family get the most out of your hard-won money.
Wrap Up
Whether for family support, education, or investments, sending money to India from Singapore is streamlined with Speed Remit. Choose reliability, ease, and Speed Remit for your international money transfers. Your loved ones deserve nothing less than the best, and with Speed Remit, you can rest assured that they receive your support quickly and securely. Send money to India from Singapore confidently through Speed Remit – the trusted platform for Indian expats.