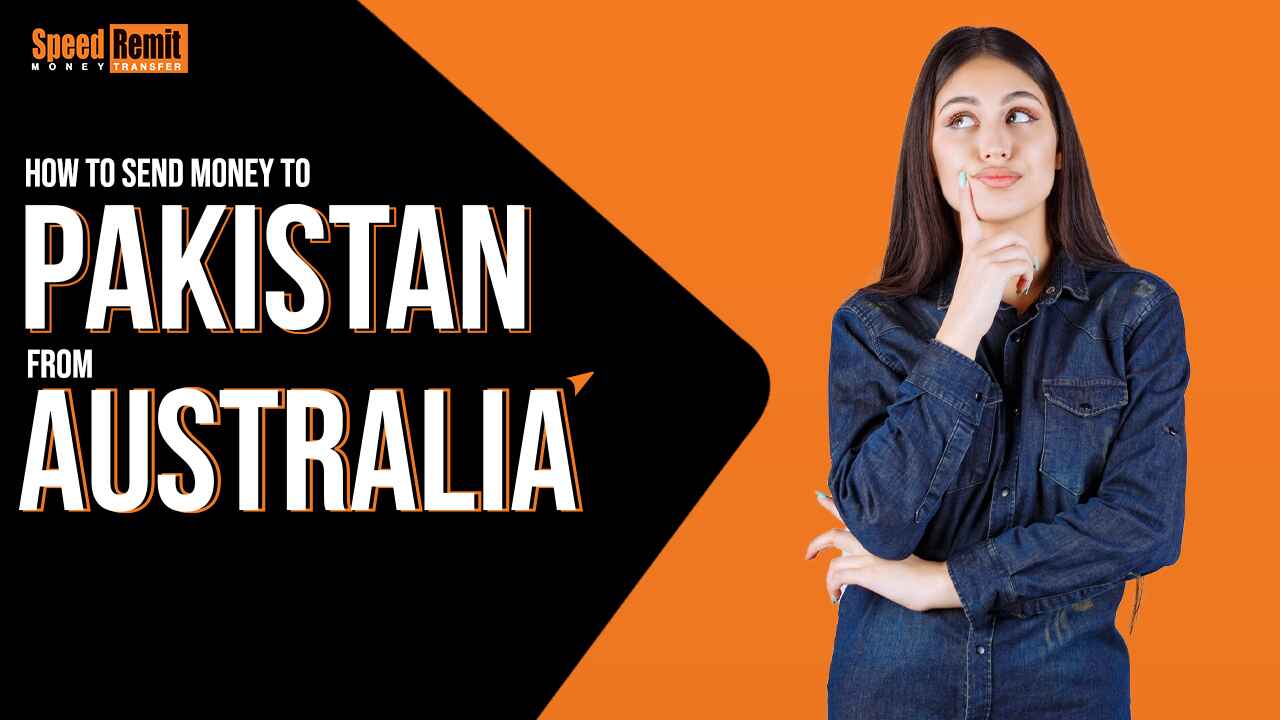 How to Send Money to Pakistan from Australia?
Stop scratching your head to find the simplest and easiest way to send money from Australia to Pakistan as there are dozens of companies offering money transfer services to Pakistan such as Speed Remit. All you need is to choose a company carefully if you really wish to enjoy a hassle-free process of sending money from Australia to Pakistan. Wise people are the ones who always gauge the services of a company in terms of authenticity, easiness, and quick money transfer before going with any company offering a remittance transfer service. Since the money transfer sector has grown alongside the digital transformation of other sectors over time, the options are many when it comes to choosing a platform to send money to Pakistan from Australia. Interestingly, it has created healthy competition that is eventually beneficial for both customers as well as money transfer companies.
Considering the large number of Pakistani settlers in Australia, one can understand the abundance of companies offering remittance transfer services to Pakistan from Australia. Though hunting for competitive exchange rates is the base of choosing the right company, there are other factors too such as ease of login, seamless method of sharing receiver's details, and easy tracking.
Let's dig out the smart ways of Sending money to your family in Pakistan with the Following Choices:
Bank Transfers: You can transfer money from your Australian bank account to a bank account in Pakistan. This is a secure and common method of transferring money to Pakistan from Australia and it may involve fees and exchange rate differences.
Money Transfer Companies: Companies such as Western Union, MoneyGram, Speed Remit, and TransferWise (now called Wise) offer international money transfer services. You can send money online, through their mobile apps, or by visiting their physical locations.
Online Payment Platforms: Some online payment platforms like PayPal and Payoneer may allow you to send money internationally. However, these services might not be as widely accepted in Pakistan, so in order to ensure seamless money transfer to Pakistan from Australia, find companies operating formally in Pakistan.
Remittance Services: Some specialized remittance companies focus on sending money from Australia to Pakistan, providing competitive exchange rates and lower fees compared to traditional banks.
Following are common errors Pakistani Expats make while sending Money to Pakistan from Australia:
Not Evaluating Exchange Rates: Failing to compare exchange rates offered by different money transfer providers or banks can lead to losing out on better rates. Even a little difference in the exchange rate can influence the amount the recipient receives in Pakistan. Therefore, you have to gauge the exchange rates wisely of a company offering the services to send money to Pakistan from Australia.
Overlooking Fees: Many money transfer services and banks charge fees for international transfers. Ignoring or not fully understanding these fees can result in unexpected costs that reduce the amount sent to the recipient.
Using Unreliable or Unregulated Services: Some individuals may opt for informal or unregulated money transfer methods to save on fees, but this can be risky. It's crucial to use reputable and regulated services to ensure the safety and security of your funds. Take time to compare companies providing the services of sending money from Australia to Pakistan.
Providing Incorrect Information: Entering incorrect recipient information, such as the bank account number or contact details, can lead to delays, failed transfers, or even loss of funds. Recheck all details before initiating the transfer.
Steps to Transfer Money from Australia to Pakistan:
Finalize a Transfer Method: Decide how you want to send money. Options include bank transfers, money transfer services like Western Union or TransferWise (Wise), online payment platforms, remittance services, and more. Choose the one that suits your needs and preferences when it comes to sending money from Australia to Pakistan.
Collect Recipient Details: Collect all necessary recipient details, including their full name, address, phone number, and bank account information. Make sure the information is accurate and up-to-date.
Determine Transfer Amount: Determine the amount you want to send in Australian dollars (AUD) and convert it to Pakistani Rupees (PKR) using the current exchange rate. Keep in mind any applicable fees.
Select a Service Provider: Select the money transfer service or bank you want to use. Ensure they offer services for sending money to Pakistan from Australia.
Log in: Some services may require you to create an account or provide your personal information. Follow the registration process and verify your identity if necessary.
Begin the Transfer: Follow the provider's instructions to initiate the transfer. You'll likely need to enter the recipient's information, the amount you're sending, and any other required details. Review the information for accuracy.
Pay Fee for the Transfer: Depending on the chosen method, you may need to pay for the transfer using your bank account, credit/debit card, or other payment options. Be aware of any applicable fees.
Confirm Transfer information: Review the transfer details one last time before confirming the transaction. Ensure that all recipient information and the transfer amount are correct.
Get Confirmation: After confirming the transfer, you should receive a confirmation receipt or email. This document will contain important information such as a transaction number, estimated delivery time, and tracking details.
Recipient Gets Funds: Once the transfer is complete, the recipient can access the funds through their bank account or the chosen pickup location, depending on the transfer method.
Conclusion
Having gone through this guide, you are not well aware of sending money to your family on time in a more secure and fast manner. Moreover, staying in touch with the latest happening in this specific business sector helps more to make your money transfer process seamless.
Sending money from Australia to Pakistan has never been easier, thanks to Speed Remit and its hassle-free, reliable services. Don't wait; experience the convenience of seamless transactions with Speed Remit – your trusted partner in international money transfers.